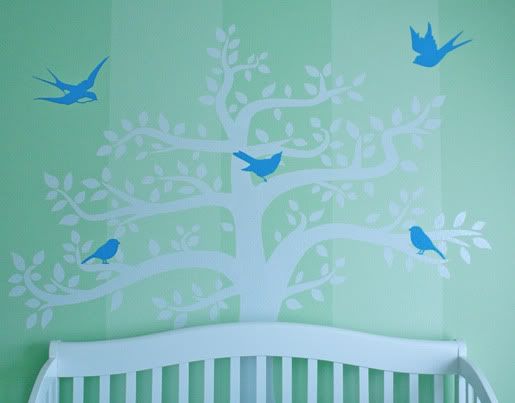 Did you love 'some good shade' but it was a little too large? Here's the smaller version- 'light shade'. This tree can add interest in any room! Soft enough for a nursery, but contemporary as well for an entry way or living area.
This tree can be purchased in single or dual-color. The dual-color will have the trunk and branches as one color and the leaves another. When purchased in dual-color, the leaves will already be attached to the branches, making it one piece and as easy to install as the single color. Also, comes with a FREE trunk extension adding another 20.5" to the height!
'Bird sheet 1' comes as pictured above. It comes with 5 different birds, ranging in size from 5"x3.5" - 10"x7.5". Bird sheet may be reflected, if specified.
dimensions of tree: 65"w x 59"h
dimensions of trunk extension: 11"w x 20.5"h
pieces to install: 9 (including trunk extension)
single color price: $80.00
dual-color price: $100.00
bird sheet 1: $7.00